Accurate and Secure Vulnerability Management and Assessment Tool for your Enterprise
Vulnerability management and assessment can quickly become overwhelming for any company's IT department, especially when an organization's technology demands grow.  These threats can be time consuming, expensive to find and fix, and constantly in flux. Learn specific beSECURE FAQ's here.
BeSECURE is designed to get you the most accurate and fastest possible improvement in network security customized for your organization's needs.
Continually scan for network and application vulnerabilities
Daily updates and specialized testing methodologies to catch 99.99% of detectable vulnerabilities
Data driven, flexible reporting options to empower remediation teams
*Bug bounty program* for any discovered proven false positives!
Complete organizational control
Our competitive advantages:
Designed with simplicity and flexibility in mind
From boot up to scanning your networks in less than 5 minutes

Flexible deployment models: cloud based, on premise or Hybrid Cloud options – only you decide how to deploy!
Scalable, quick, easy, cost effective scanning, great for PCI scanning and compliance
Accurate scanning with near zero false positives to save you time
Automatic, daily vulnerability database updates – stay ahead of the latest threats

Simple and transparent pricing
All features, scan functions and report formats available by default
No hidden "modules"
Pay only for active IP's

No host-based clients or agents required
With full capabilities – authenticated scans, patch detection, and more
Allows you to fully scan even BYOD environments
Schedule a demo and see how Beyond Security's solutions make
it easier to protect your business from cyber attacks.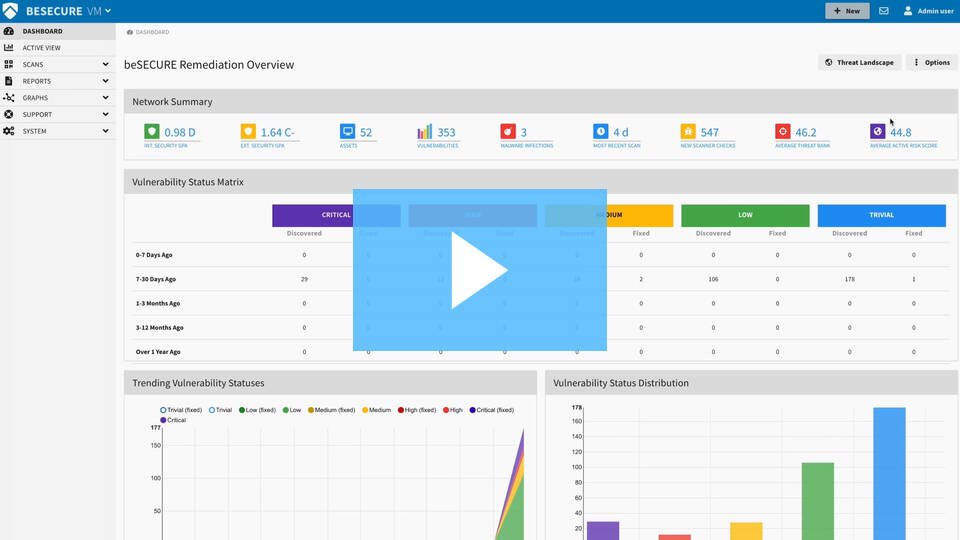 Video: The Next Generation of beSECURE
What our customers say about us:
"We now have the ability to scan at any time. Regular vulnerability assessments scans are like having sonar on our own network. We always know what is going on around us."
"Previously, I have dealt with many (many) different scanning vendors in my 15+ years in IT- security.  BeSECURE from Beyond Security is the first solution I could power up, configure and start doing useful scans within 15 minutes of my first session – awesome!"
"The information provided in the reports is very clear and concise. It explains to engineers what the problem is, where to look for more information, and how to fix it."
"We needed a way to discover and audit network assets, understand and prioritize current network vulnerabilities, then track and manage the remediation efforts over time. After a three month review of nearly ten different vulnerability scanning vendors we chose Beyond Security's beSECURE. We had specifically selected beSECURE because it would cause no disruption to our systems and required no installation of any new software on our systems."